It's been long-requested, and it's finally here! Logicly 1.7 Beta allows you to open multiple documents at the same time. Feel free to open many windows side by side, and you can even copy and paste among them. That includes copying and pasting custom itegrated circuits, by the way — they'll transfer seamlessly!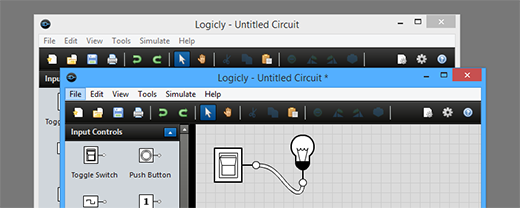 As you can imagine, supporting multiple open documents required some significant archtectecture changes under the hood. With that in mind, please consider this build of Logicly beta quality. You've been warned: there may be bugs. If you find any issues, please don't hesitate to submit a bug report!
This build is not available from the normal Check for Updates mechanism in Logicly. It is only available for download from logic.ly/beta. Once I'm sure that everything is stable, I'll release an official update for everyone. If you're feeling adventurous, give the beta a try. If you'd rather avoid any possible new bugs, please wait for a stable build of Logicly 1.7 in the coming weeks.
I'm looking forward to your feedback!