Today, I'm happy to announce the official release of Logicly version 1.7. Thank you so much to the beta testers who helped track down bugs to make this a stable release. This release finally lets you open multiple files at once and edit them side by side. You can even copy and paste between them, including custom integrated circuits.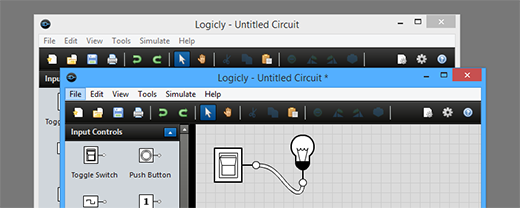 If you ever encountered an issue where you couldn't delete a gate in a Logicly document, that bug has finally been fixed. And finally, the Mac version has been updated to support Retina displays for crisp and clean graphics.
Thank you again to the helpful beta testers who reported bugs and provided awesome feedback. Now, please point your browser to the Logicly download page or go to the Help menu in Logicly and choose Check for Updates. If you've been playing with the free trial, and you like what you see, maybe now is the perfect time to buy Logicly.