Teach logic gates + digital circuits effectively — with Logicly
Design circuits quickly and easily with a modern and intuitive user interface with drag-and-drop, copy/paste, zoom & more.
Take control of debugging by pausing the simulation and watching the signal propagate as you advance step-by-step.
Don't worry about multiple platforms on student computers. Install on both Windows and Mac.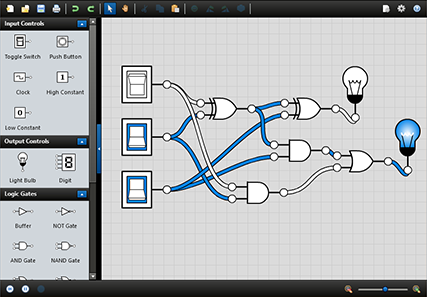 "It is so nice to let students tinker in a simulation and then reproduce their work with a live circuit."
Andrew M.C. Dawes, Pacific University
Read more testimonials
Create engaging, hands-on, homework assignments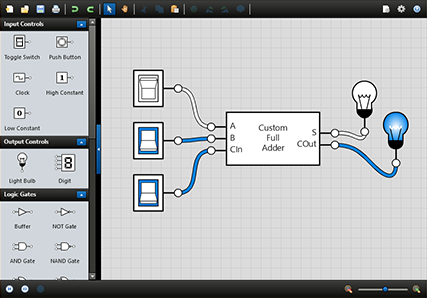 Let students experiment in a "no worries" simulation where undo is a click away — before building physical circuits.
Encapsulate and avoid duplication by creating custom integrated circuits that you can drag and drop... just like gates.
Customize Logicly for your curriculum by building libraries of custom circuits that students can "import" into their work.
Students and educators around the world enjoy learning with Logicly
Join them today. Add Logicly to your classroom or computer lab.